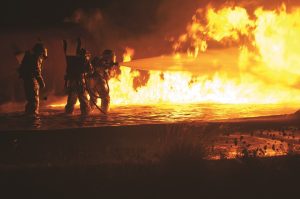 Chatham-Kent's fire chief says the safety of area residents remains his department's top priority.
News broke earlier this week that the province scrapped a fire certification program, introduced under the former Liberal government.
However Chief Bob Crawford says it didn't necessarily take the needs of smaller and rural communities into account.
"We're absolutely in agreement that these standards need to be firmed up. It's just the devil's in the details as they say. The local needs and circumstances in Ontario are not uniform and communities need to be able to take part in that conversation and make sure that the policy that gets produced at the provincial level is a policy that will look after our concerns here in Southwestern Ontario , just as much as they take care of the concerns at Yonge and Bloor in Toronto," says Crawford.
Crawford expects the government will be talking to regional fire chiefs moving forward to ensure future legislation reflects the needs of everyone.
"We've got solid equipment, we have a curriculum, we're working to the best practices in fire services. It's a case that local needs and circumstances need to be recognized and we're encouraged that the government is going to take a second look at this and generate something that reflects that part of the equation that local needs and circumstances need to be factored in to when we determined how we train our firefighters to be safe," Crawford explains.
Regardless of what legislation may be in place, Crawford says local fire fighters are required to complete national competency training.