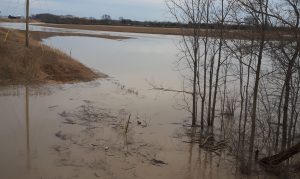 Rain and melting snow could make for a sloppy few days along the Thames River.
The mercury is expected to hit the mid-teens today, and with 25mm of rain in the forecast, flooding is expected along the low-lying river flats from Delaware to Chatham.
However, Jason Wintermute with the Lower Thames Valley Conservation Authority says you can chalk it up to a very typical spring thaw.
"We've lost most of the snow in the Lower Thames already, but there's still snow north of London that's going to melt, and over the weekend, make its way downstream to Chatham," says Wintermute.
Officials say that while any flooding is expected to be as bad as it with last month's ice jams, low-lying areas through Chatham's downtown core are expected to experience some minor flooding into next week.
"We'll see water levels come up and they'll flood over the sidewalk along downtown – they may come up a another couple of feet – but we're not looking at anything close to what we saw last year, or even back in February with the ice jam," Wintermute says.