Plans are in the works for this year's second annual Dresden Summer Night Market.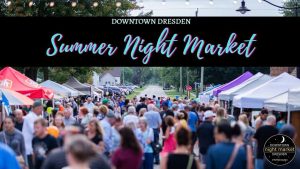 Hundreds of people took in the inaugural event last summer.
Set for August 17th, this year's edition will include food, local artisans, and live entertainment.
Organizer Emma Butler says they're trying to recruit some more vendors and bands.
"We're seeking any and all local bands that are interested," Butler says. "We have such a large group of people that attend our event and everybody with different tastes in music, so whether you're rock or more poppy or country, everybody is welcome to apply."
Butler says they'd like to get as many crafters and artisans as they can squeeze into the downtown core, plus a few food trucks as well.
If you'd like to take part, you can fill out one of the online application forms or email 519eventsandpromotions@gmail.com
Vendors: nmdresden.com/vendor-app
Food Trucks/Vendors: nmdresden.com/food-app
Charities/Non-Profits: nmdresden.com/charity-app