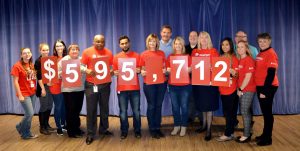 The United Way of Chatham-Kent is a big step closer to its fundraising goal, thanks to Union Gas.
The employees and retirees have raised $595,712 to support this year's campaign.
Union Gas president Steve Baker says he's inspired by the staff, who held a number of fundraising events over the past year, with proceeds matched by the company.
"To say that I am proud of the employees at Union Gas is an understatement. The devotion of all Union Gas employees during the 2018 campaign was inspiring as they helped to improve the lives of individuals and families in the community where we work and live," says Union Gas president Steve Baker. "Our culture of giving ensures United Way can continue to make critical investments that help people every single day in Chatham-Kent."
Union Gas is traditionally one of the organization's biggest corporate supporters in Chatham-Kent.