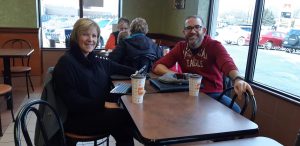 Wallaceburg's two municipal councillors are hoping to get an ear full from their constituents.
Carmen McGregor and Aaron Hall have decided to hold morning chats with residents ahead of each council meeting.
Since the first session of the new council is Monday night that meant an hour in a local coffee shop on Friday.
McGregor says they love the interaction with the voters. " Well we have heard about some lighting on most concession roads coming into town, about the W. T. Lang property, and the shortage of housing in the area, and the need for more affordable housing. "
They both believe this is a great way to take the pulse of the community.