Much of southern Ontario felt the wrath of Mother Nature this past weekend with heavy rain, freezing rain, and high winds whipping across the province.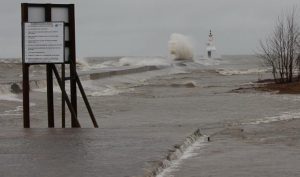 In Chatham-Kent, flooding affected a number of homes and roads along the Lake Erie shoreline.
A flood warning remains in effect from the Lower Thames Valley Conservation Authority as well with high winds and waves of more than two meters expected to pound the shoreline again today.
Officials with the St Clair Region Conservation Authority say water levels along the Sydenham River and its tributaries have been rising, with localized flooding in some low-lying areas.
Several hundred local residents are still without power this morning as Hydro One and Entegrus crews working to get the lights back on. According to officials with Hydro One, it could be later this afternoon before all power has been restored.