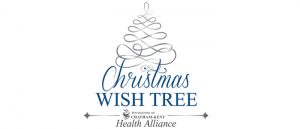 The Foundation of Chatham-Kent Health Alliance is gearing up to celebrate the holiday season and help raise funds for some new equipment at the same time.
Development Officer Barb Noorenberghe says the 28th annual Christmas Wish Tree campaign is now underway.
"It's something that has stood the test of time and I believe it's something people look froward too it's a nice tradition because when you make a donation you're remembering a loved one, someone special and there's a light lit in their honour," says Noorenberghe. "Look for an envelope in the mail this week but also go to our website. to www.foundationchka.com just follow the Christmas wish tree and you'll be able to make a donation that way as well."
The campaign this year is in support of the hospital's diagnostic imaging equipment campaign, specifically for mammography equipment.
The annual tree lighting ceremonies will take place December 14th at hospital campuses in Wallaceburg and Chatham.