A changing of the guard for a local activist group.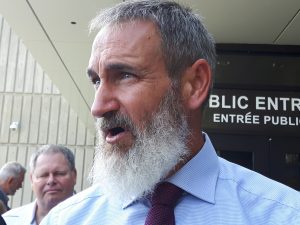 After three years at the helm, Kevin Jakubec has announced he's stepping back from Water Wells First.
The outspoken head of the environmental watchdog says he's hoping to spend more time with his family.
Jakubec has lead the group through a number of ups and downs since 2015 including a battle with the North Kent Wind project; a defamation lawsuit involving former Wallaceburg councillor Jeff Wesley; and a partnership with the University of Windsor's Great Lakes Institute of Environmental Research.
Taking over will be North Kent resident Jessica Brooks, whose family has been living with contaminated well water for over a year.
Most recently, Brooks ran an ultimately unsuccessful campaign for a seat on Chatham-Kent Council in Ward Four.